Why Use Price Setter?
Try to think about the last time you or someone you know wanted to buy a new car. You probably spent a considerable amount of time researching the price of the vehicle you wanted on several listing websites. After that you probably wasted several days, maybe even weeks, visiting dealerships, checking their inventory and trying to find out which one would offer you the best deal. Many people feel like price negotiating causes the most friction and discomfort while at the dealership. That's because not everybody is good at it. Sitting for hours in front of a sales desk is not the ideal way to spend your weekend and it puts a damper on what should normally be an exciting experience. But now there's Price Setter. Price Setter gives new car buyers the tool they need to get the best deal on a new car so they can streamline their car buying experience. Now you can put your local dealers to the test. Get them to compete against each other for the best deal, on the spot and in real-time. No waiting. Once you get the best deal, you can take your locked-in discount to that dealer and skip the hassle of negotiating your price.
Find The Best Price For A New Car On The Spot
Price Setter has taken the arduous process of negotiating or comparing new car prices and transformed it into a simple, one-click solution. What would normally take several days or even weeks to accomplish can now be achieved in a few minutes or less. Following basic supply and demand principles, Price Setter lets Shoppers directly influence what kind of discount they're going to recieve on their next new car and it all happens in real-time.
Negotiation Free
One of the awesome things about Price Setter is that the discount you're given has already been agreed to by the Dealer on our end.  That means you're getting the negotiation process out of the way first! The only thing left to do is to decide whether you want to take it or leave it – but remember, whether you're comparing two or twenty Dealers, you're getting the best deal possible from the Dealers that you've engaged!
No Cost And No Obligations
Price Setter is an open platform to shoppers. New Car Shoppers can use Price Setter to find the best price for a new vehicle as many times as they want at no cost. There are no additional fees or hidden costs. Our Dealers are required to honor the discount that was presented to the shopper based on our service standards agreed to by all Member Dealers.
1.

 Select the vehicle you're looking for. Choose by year, make, model and trim.
2.

 Enter your zip code to search for car dealers in your area.
3.

 We'll generate a list of dealers who sell the vehicle you're looking for.
4.

 Select from this list of dealers and engage them to compete against each other to give you the best deal!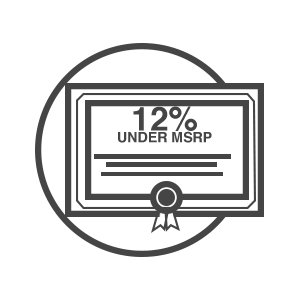 5.

 After the winning dealer emerges, enter your email and confirm to receive your confirmation code and lock in your discount.
6.

 Print your certificate, take it to the winning Dealer and receive your no hassle discount.
* Discounts are based on percent under MSRP so if the dealer doesn't have the vehicle with the exact specification's you're looking for they can give you the same discount on the same car with different specifications as long as it is still the same year, make, model, and trim. Or if you'd prefer, ask the dealer to locate the car for you.
Already Have A Price To Beat?

Do you think you've found a great deal on another website? Put our network to the test!
**The discount under MSRP only applies to NEW VEHICLES, NO DEMOS, VEHICLE MUST BE IN STOCK, NO DEALER ADD-ONS, DESTINATION FEES ARE INCLUDED, CUSTOMER INCENTIVES ARE INCLUDED, TRADE IN ALLOWANCE IS NOT INCLUDED, NO HIDDEN COSTS, NO DOCUMENTARY FEE TO BE ADDED, THIRD PARTY FINANCING OR COMPETITIVE DEALER FINANCING IS NOT INCLUDED, the same discount applies to all other items listed on factory sticker, Discount is good for THREE days, discount does not include TT&L.