Close Deals Faster
Get Negotiating Out Of The Way
Why Did We Create Price Setter™ For New Car Dealers?
While buying a new car can be an exciting occasion for anybody, studies show that there is a large population of shoppers out there who feel like the process is overwhelming. They don't like to negotiate, they don't want to overpay, and they don't want to spend too much time. There are hundreds of websites devoted to listing inventory, prices and availability of new vehicles. They offer customers an easy search option, but that's pretty much as far as it goes. Price Setter offers a simple and convenient way for shoppers to engage a network of new car dealers in real-time, without back-and-forth negotiating, to determine the best possible deal on the vehicle they want to buy. Price Setter helps new car dealers and new car shoppers arrive to a mutually beneficial deal that is achieved instantly, in real-time, without any back-and-forth hassle, saving time and money for both sides.
1. Register your dealership into the Price Setter dealership network.
2. Once you've registered your dealership go ahead and fill out your account profile. This will help new car shoppers identify your dealership and be able to accurately compare against other dealerships.
3. Set custom parameters as to what percentage you would be willing and able to discount a particular configuration of vehicle in your inventory based off MSRP. You can set parameters for every year, make, model, and trim in your inventory. Your bottom line (set by your parameters) is only given out when or if necessary. Price Setter will never discount below your bottom line threshold.
4. New Car Shoppers are now able to engage your dealership against competitors in the Price Setter cloud. Once Price Setter has linked your dealership with a New Car Shopper we will deliver a confirmation number to your control panel so you can verify the deal.

Get Leads That Are Ready To Buy
Our leads come to your dealership with a ready-to-buy attitude. You won't have to negotiate on the price you give them because through Price Setter you've already proven that you've got the best deal compared with other dealers.

We're Not Here To List Your Inventory
There are dozens of websites out there that are devoted to charging car dealers to list their inventory and prices on vehicles so why do we need another one? We don't need to list inventory! By presenting discounts as percentage below MSRP we enable Dealers to give the same discount to the same two cars that are configured differently. 

There's No Race To The Bottom
Because we're not a listing website, you don't have to worry about shoppers comparing the lowest prices and you don't have to worry about your competitors adjusting their prices compared to your listed price. Your discount is determined algorithmically based on parameters you set and only whenever a shopper engages your dealership against one or many dealerships. Your discount is only displayed if you win!

Automatic & Real-Time Responses
We know that many customers hate negotiating, and we know that many dealers don't like to have their time wasted. Price Setter handles all negotiating in real-time, automatically, and instantaneously so that both shopper and dealer are happy with the result and no time is wasted. We can do this because our system uses pre-set parameters assigned by the dealer that determine how high or low to set a discount when engaged by the shopper. With no hassle pricing, your valuable time can be better spent elsewhere.
Increase Direct Website Leads!
Try Our Widget!
Introducing the Price Setter Widget – a new module that you can integrate into your dealership website. Have you ever been asked by car shoppers if you can match a price that they found somewhere else? Our widget lets you give an immediate response to that question without your presence. Shoppers can enter a price to beat from an out of network dealership and come to you for the best deal. Don't let that customer slip away, let them know you'll compete against any price! Through your merchant control panel you'll also be able to keep track of widget metrics to see how often customers are engaging your widget and how often you beat a competitors price. Install your very own Price Setter widget NOW!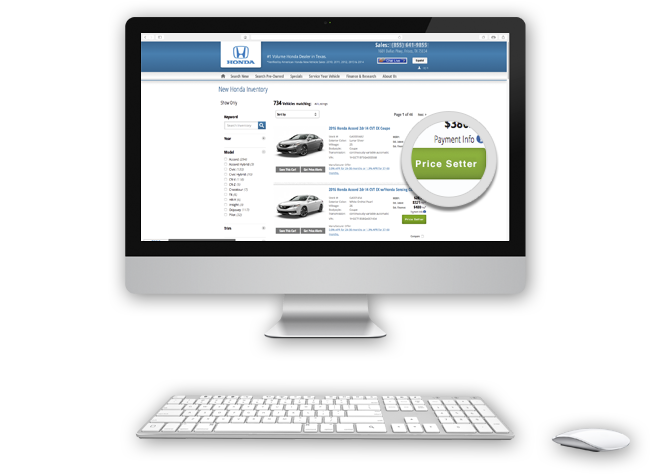 **The discount under MSRP only applies to NEW VEHICLES, NO DEMOS, VEHICLE MUST BE IN STOCK, NO DEALER ADD-ONS, DESTINATION FEES ARE INCLUDED, CUSTOMER INCENTIVES ARE INCLUDED, TRADE IN ALLOWANCE IS NOT INCLUDED, NO HIDDEN COSTS, NO DOCUMENTARY FEE TO BE ADDED, THIRD PARTY FINANCING OR COMPETITIVE DEALER FINANCING IS NOT INCLUDED, the same discount applies to all other items listed on factory sticker, Discount is good for THREE days, discount does not include TT&L.